Updated on by PlayRoider
A Rules of Survival PC version client has recently been released by Netease Games and is available for Windows (unfortunately there's no Mac version). With this, the fast-growing free battle royale game comes to PC gamers. 120 players are placed onto a deserted island where only one player (or team) can survive to win. Use weapons to defend yourself from opposing players. In the PC version, you can fight solo, or team up with a friend or a group for duo (two players), squad (four players), or even fireteam (five players) matches.
This complete guide will show you all the steps needed to get started to play on PC and troubleshoot any issues you may encounter along the way.
You must have the latest version of Rules of Survival installed on your smartphone or tablet to complete the scan on step 7. If you don't have it yet, download it now from the Google Play Store or iOS App Store before continuing.
Update: You can now login using Facebook and Google for RoS. The guide below shows how to install the game for Windows PC and scan the QR code with a phone if you prefer not to use your FB/G login account.
Step 1
Download Rules of Survival PC version client
www.rulesofsurvivalgame.com (official website English version. Setup file is about 1.2GB in size)
t2.163.com (Chinese version)
While you're waiting for the download to finish, continue reading below for step-by-step instructions on how to install RoS, PC controls, and a detailed FAQ for common issues and fixes.
---
Step 2
When the download is finished, open the installer. Accept License Agreement.
Step 3
You can read the installation notes. Click Next.
Step 4

You can optionally create a desktop shortcut.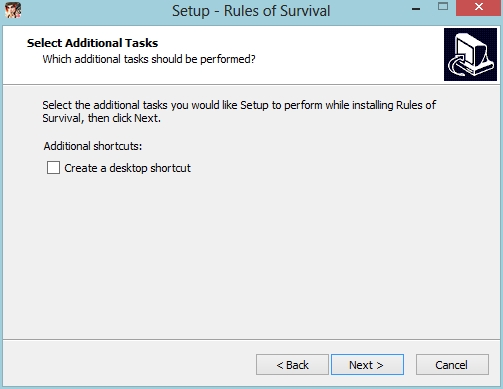 Step 5

Finally, click Install.
Step 6

After the setup wizard is completed, click Finish and launch the game.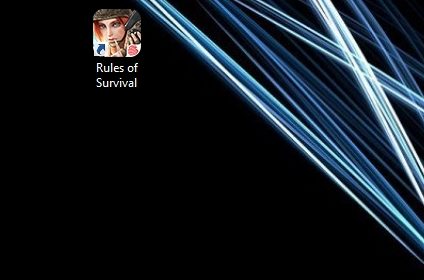 When you first launch the client, ut may download a new patch update. Afterward, it will ask you to restart to complete the update. Click OK.
Step 7

When it restarts, it will display a Facebook/Google login and a QR code to scan.
From here, you can log into the game by using your Facebook or Google account, or you can scan the QR code. To scan the code, open the mobile Rules of Survival game on your smartphone or tablet. On the main screen, tap on "PC login" located on the right side of the screen.
It will ask for access to your camera and then will search for a QR code.
Point your camera to the QR code displayed on your computer screen. Tap to confirm the login from your mobile device. When completed, you'll see a "scan successfully" message on your PC screen.
Step 8

Accept the Agreement by clicking on the green button.
Step 9

You should now be logged in and ready to create a new account.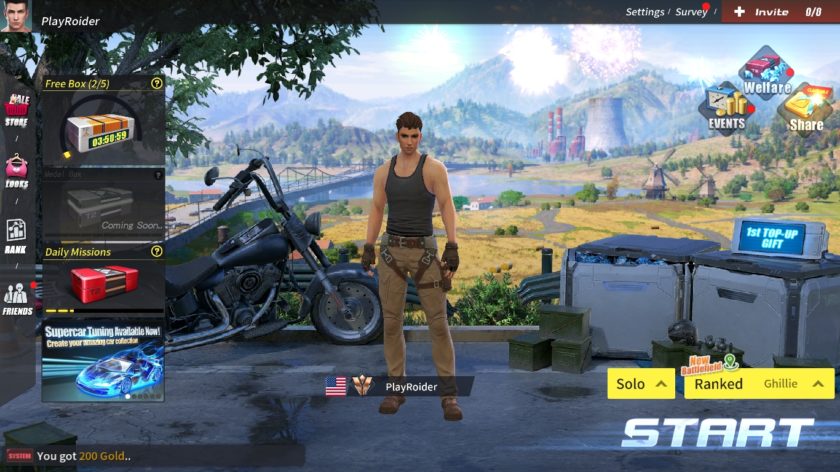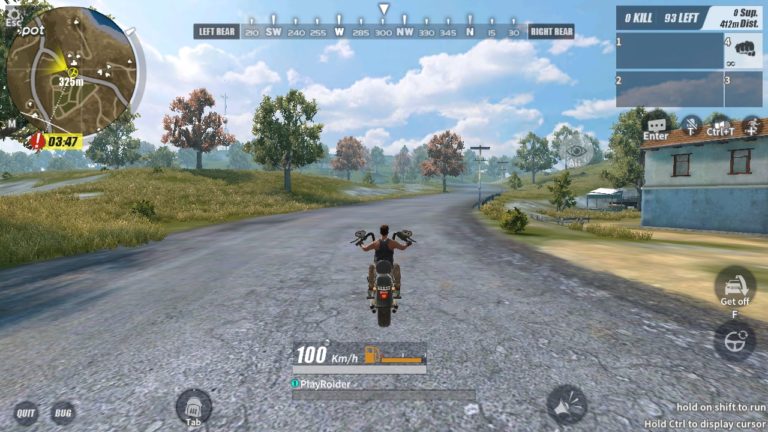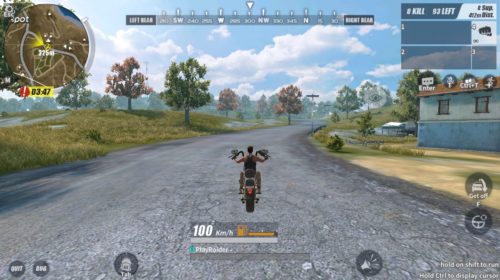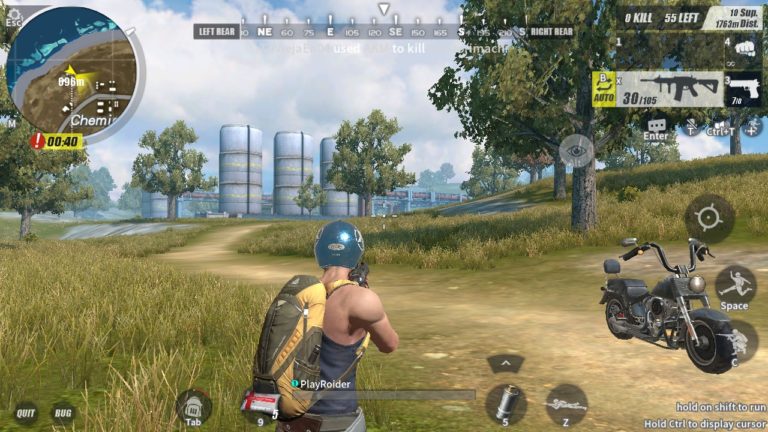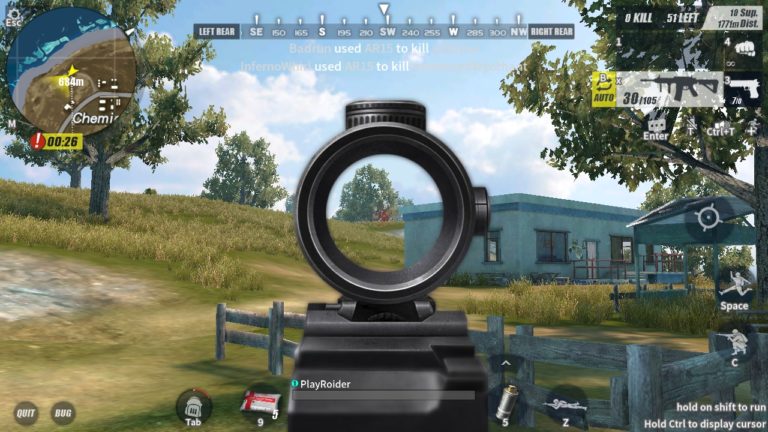 Rules of Survival PC controls
WASD: Move
Left-click: Shoot
Right-click: Aim
Hold shift or press +: Run
Mouse-wheel: Scroll through loot or switch weapons
1: Primary weapon
2: Secondary weapon
3: Pistol
4 or X: Melee
5: Throw grenades
7: First Aid Kit
8: Med Kit
9: Bandages
0: Sports Drink
Q and E: Lean left/right (if enabled)

Hold Alt + mouse: Free look
Hold Ctrl + mouse: Free cursor movement
Space: Jump
R: Reload
B: Switch auto/semi
C: Crouch
Z: Prone
M: Map
V: Hide loot display
F: Interact
E: Open/close doors (available option in game settings)
Tab: Inventory
Enter: Chat
T: Microphone on/off
Ctrl + T: Voice on/off
ESC: Menu settings
N: Quit game
Note: It is now possible to change keyboard controls, but the list above shows all the default action keys available.
Rules of Survival PC Version Fixes, Tips, and FAQ
How to play RoS on fullscreen?
In recent updates to the PC client, fullscreen can be enabled in the settings menu.
If you don't see this option in your settings, then it means your client is out of date and you'll need to re-download the game again from the official RoS game website.
Do I always need the mobile client for PC login?
No. Now you can sign in using Facebook and Google login without the QR code.
Can I scan the QR code in Rules of Survival PC version without a phone or tablet?
Yes. You can play the PC version without a phone to scan the QR code, but it's a little tricky. You'll need to download an Android emulator on your computer and own a webcam to do this.
When you have the mobile version for RoS running on Nox, click on "PC login". Nox will use your webcam automatically to simulate a phone's camera.
Point your webcam at the QR code displayed from the PC version and the scan will be completed.
Click on "confirm login" from Nox.
There are additional methods for scanning the QR code without a mobile phone and RoS client you can try.
Is there a Mac version?
At this time, no. The PC version is only available for Windows operating systems.
Can Rules of Survival PC play with mobile?
No. The mobile servers and PC servers are separate and does not support cross-platform play. This means you cannot add friends from the mobile version or bind your mobile account to your PC account. However, you can use an Android emulator on PC to play RoS together with your friends if they use mobile devices.
ros.exe crashes or stops working
The problem could be a bad installation or improper download, Uninstall the game, then re-download the installer from the rules of survival game official website and reinstall.
If you're stuck on downloading updates, disable your anti-virus or firewall for the game to download new updates. You can also whitelist the ros.exe application.
When I open the game the Netease logo closes or gives a OpenGL 4.1 error. Can I fix this?
This has to do with your graphics card.
If you're using a dedicated graphics card such as NVIDIA or MD Radeon, go into your video card's control panel and adjust 3D settings to High Performance.
If you're using integrated graphics like Intel HD Graphics, go into Graphics Properties and set 3D options to Performance. Set Power Plans to Maximum Performance.
If you're still having problems, then check for new updates on your graphics driver(s).
You should also see how to fix the Rules of Survival PC OpenGL 4.1 error guide for further assistance.
What are the Rules of Survival PC system requirements?
While there is no official system requirements, here are the PC specifications that was used for this guide.
Windows 8
Intel Core i7 4500U CPU @ 1.80GHz (2 cores)
8GB RAM
Intel Integrated HD Graphics
In my experience, the game ran between 40-60 FPS on Excellent graphics settings with High FPS Mode enabled.