Great news for RoS players. Battle royale game Rules of Survival PC version now supports Facebook and Google login released in an update earlier today by Netease Games. This means you no longer need a mobile phone or tablet to scan the QR code for every login (though the option to do so is still available). Unfortunately, there doesn't appear to be a way to transfer your PC account to bind with the new FB/G sign in system. This means you'll have to start over again, or contact support for an account transfer.
The PC version of Knives Out, another battle royale game from Netease, has not been updated with the sign in system, so it only applies to RoS.
In case you're wondering how the new login system works, logging into this new system is quite simple. Naturally, you'll need either a Facebook or Google account.
How to log into the new Rules of Survival PC login system.
Launch Rules of Survival. You'll notice the "Sign in with Google" and "Sign in with Facebook" options.
For Facebook, enter your FB account credentials in the game's window.
Click on "Continue as (your name)"
Accept the License Agreement (the green ? ? button).
Now any time you start RoS for PC, you'll see your Facebook name. Click on "Login".
It's just as simple for Google as well. Enter the details for your Google account.
Click on "Allow".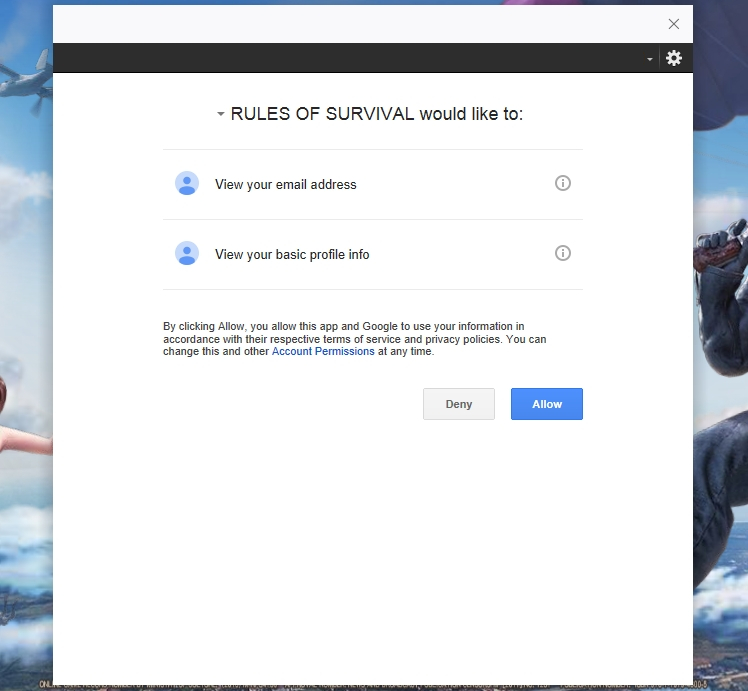 And like before, accept the License Agreement.
If at any time you choose to clear the data on your computer, click on the "Clear login data" link on the login screen.
A Facebook and Google sign in system for PC players has been requested for a long time, so it's a nice feature to be added. Of course, you can continue to scan the RoS QR code with or without a mobile phone device.
Rules of Survival PC Login FAQ
Can I bind my RoS PC account from QR scan to either my Facebook or Google account?
As mentioned earlier this does not appear to be possible at this time, which means you will need to start over again with a new account. However, you might be able to transfer your account if you contact Netease support. Hopefully this issue will be addressed sometime in the near future.
I don't want to share my public Facebook/Google account info with RoS, is there a safer way?
You can create a new "dummy" Facebook/Google account for the purpose of logging in for Rules of Survival. This way, you won't have to share any of your real public information.
Can I still continue to scan the QR code and keep my old PC account even after logging in with FB/G sign in?
Yes, the QR code scanning still works. All the progress you've made is still linked to the device you use to scan.