Free Fire Battlegrounds is a 40-player multiplayer battle royale game for Android and iOS by 111dots Studio. The game was in public beta for a while before officially releasing on December 4. It features a wide assortment of weapons to choose from and you can drive vehicles on a large map. This is one of the best Android battle royale mobile games out on the Play Store market right now.
Free Fire Battlegrounds on PC has been tested and confirmed to work on the following Android emulators:
In my experience, gameplay runs very well on all of the above emulators, and the setup is quite simple. Below is a guide on how you can play on PC using any of the above Android app players.
How to Download and Play Free Fire Battlegrounds on PC with Android Emulators
Step 1:
You'll need to download and install the latest version of an Android emulator for PC. It's recommended to use Nox App Player by Bignox: bignox.com
If you're new to Nox, a complete guide on how to use Nox App Player is available.
You can also use MEmu: memuplay.com
Or Bluestacks.
Step 2:
Once your app player is installed (or updated, if you already had one installed), sign into the Google Play Store and search for the game, then download it.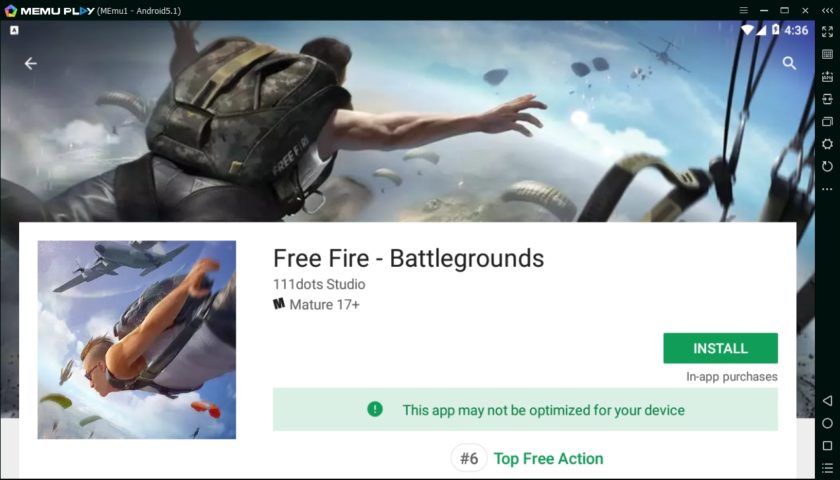 If you see the message "This app may not be optimized for your device", can you ignore it. You should still be able to download.
Step 3:
Launch the game and you should be at the main menu to login.
Free Fire Battlegrounds on PC Keyboard Mapping Controls
All of the game's actions can be mapped to keyboard and mouse. Here's one setup of PC controls with Nox.
This is the PC mapping controls in Bluestscka.
Here's one more with MEmu.
Free Fire Battlegrounds PC Controls
Left mouse: Fire weapon
Right mouse: Toggle Shooter Mode
WASD: Move
Q: Switch weapon
R: Reload
SPACE: Jump
C: Crouch
X: Prone
Z: Run
F: Eject from plane, enter/exit vehicles, etc.
For vehicles
I: Accelerate
K: Brake/Reverse
J: Steer left
L Steer right
Configure how you want your controls to be for your preference.
Free Fire Battlegrounds Performance tips
Game is too slow or lags
if the game appears laggy, make sure to allocate at least the following PC resources to your Android emulator:
2 CPU cores
2GB RAM
DirextX Graphics Mode
This will help run the game smoothly.
Sensitivity is too high
If you're experiencing issues with your mouse moving too fast, try lowering the sensitivity in the game's settings to a range between 0-6 for better results. Don't forget to adjust the sensitivity levels for scopes too.