Updated on by PlayRoider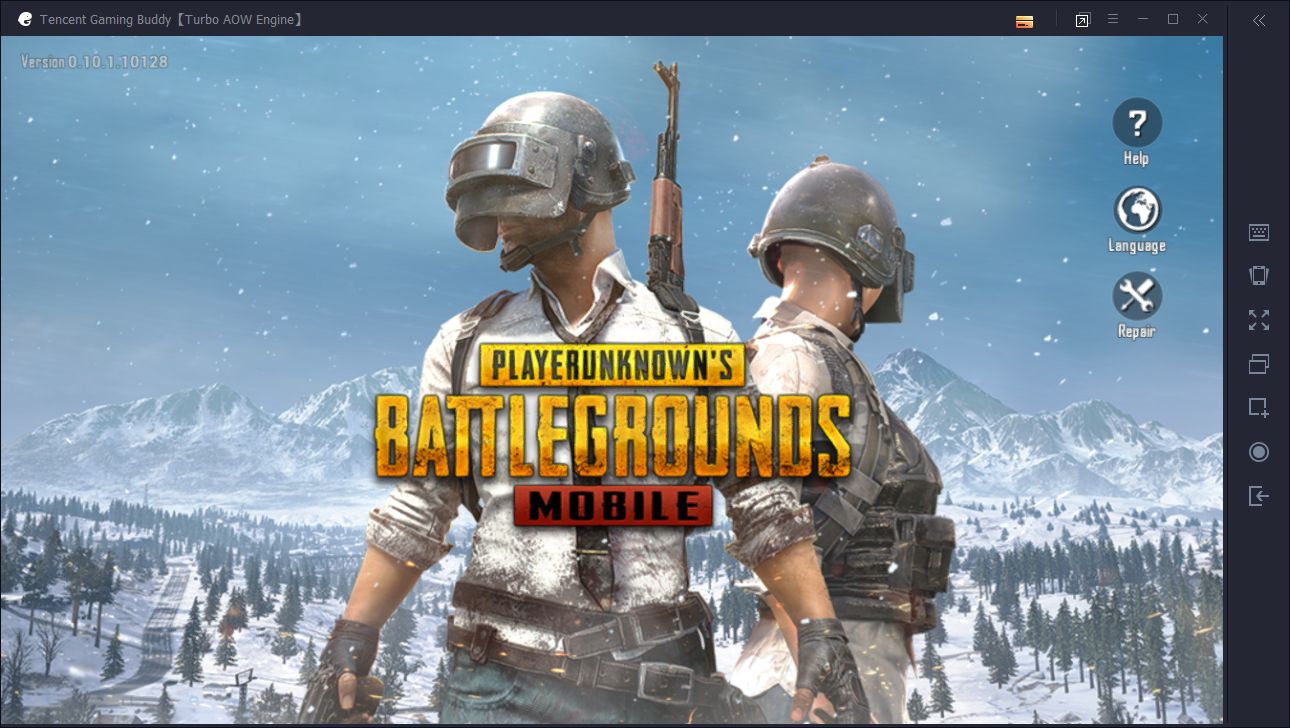 Tencent Games has its own official emulator for PC called Tencent Gaming Buddy, also known as TGB. Described as the best Android emulator, it is a public beta application designed to run PUBG Mobile on PC for precise mouse and keyboard control.
Interested in trying it out for yourself?
This extensive guide will cover everything from how to download and run Tencent Gaming Buddy to configuration settings and troubleshooting.
With that, let's dive in.
---
Contents
---
Tencent Gaming Buddy System Requirements
Generally the emulator should work with the following PC specs:
Windows 7/8/10.
CPU: Intel Core i3-8100 processor.
At least 3GB RAM (confirmed on Tencent's forum).
Intel HD Graphics 4400 integrated graphics (NVIDIA GTX 660 graphics card recommended).
DirectX Version 11.
2GB HDD storage space.
Getting Started
Installing TGB to play PUBG Mobile is simple to do, but to avoid any errors along the way it's advised to run through a short checklist.
Reboot your computer. This helps free up resources on your PC especially for low-end systems.
Disable your antivirus or firewall. You might feel uncomfortable about doing this, but some antivirus software are known to cause unintended problems. They can block important files and connections you need to run the emulator properly. If you continue to leave them active, then you may encounter issues which could make the emulator unusable.
Check the system requirements (see above). You should be running a PC with Windows 7 or better and have at least 3GB RAM (4GB or more is recommended). Computers with 2GB RAM or less will not be able to run TGB and you'll have to upgrade your RAM to continue.
Download and Install Tencent Gaming Buddy
Download the official installer.
Get the English global version of the emulator by clicking on the download button.
Launch the installer. Clicking on Customize gives you the option of choosing where to install the emulator on your computer.
By default, it will be either D:\Program Files\TxGameAssistant or C:\Program Files\TxGameAssistant depending on your hard drive setup.
Click on Install to begin the installation.
When it's done, click on Start.
Tencent Gaming Buddy will download the engine required to run the emulator. This will take a little time.
Afterward, the emulator will download the latest version of PUBG Mobile.
The game APK is around 1.5GB in size which may take some time to download depending on your Internet speed.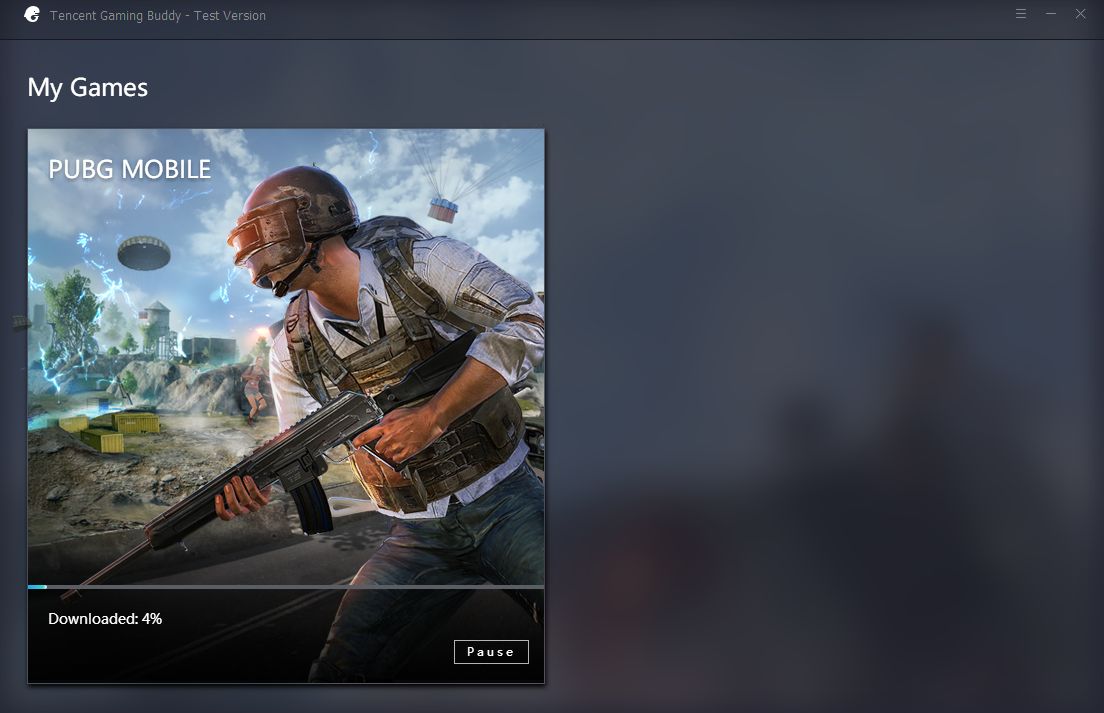 When the download finishes, the game will install itself.
After the game launches for the first time, it will usually download a small update of around 15-20MB and then you'll need to restart the game. Click OK.
Click on the PUBG Mobile app icon to launch the game again.
When the game is finished loading you should see the title screen.
From here you can log into your account using either Facebook or Twitter (Google Play is unusable for now), or create a Guest account.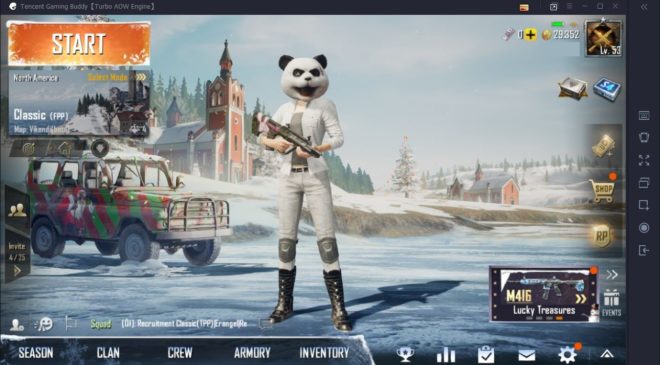 Alternative: How to Install PUBG Mobile Without TGB Downloader
If the Tencent emulator fails to download PUBG Mobile correctly, then you can try using this method instead.
Visit the official PUBG Mobile website: www.pubgmobile.com
Download the APK game for Android.
Start Tencent Gaming Buddy.
Open the emulator's settings and change the language to Chinese (top language option). Save settings and restart TGB.
When it opens again, you'll see a different interface. This is normal.
From the left side, click on the gamepad icon.
Click on the APK installer button on the top-right corner.
Navigate to the PUBG Mobile APK you just downloaded earlier and install it.
When it's finished the game will start in Chinese.
To change it back to English, open the emulator's settings again and select the second-bottom option.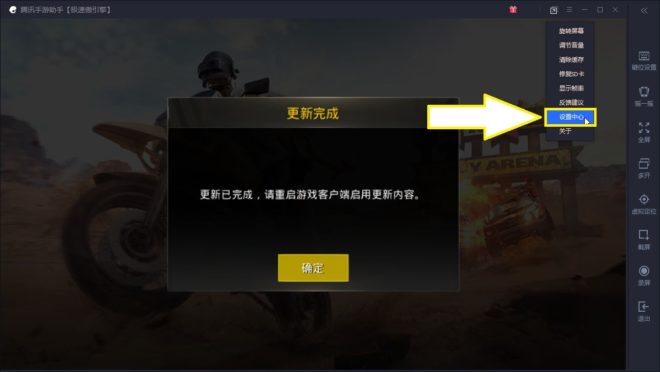 From the drop-down menu, choose English (or your native language).
Save settings and restart the emulator.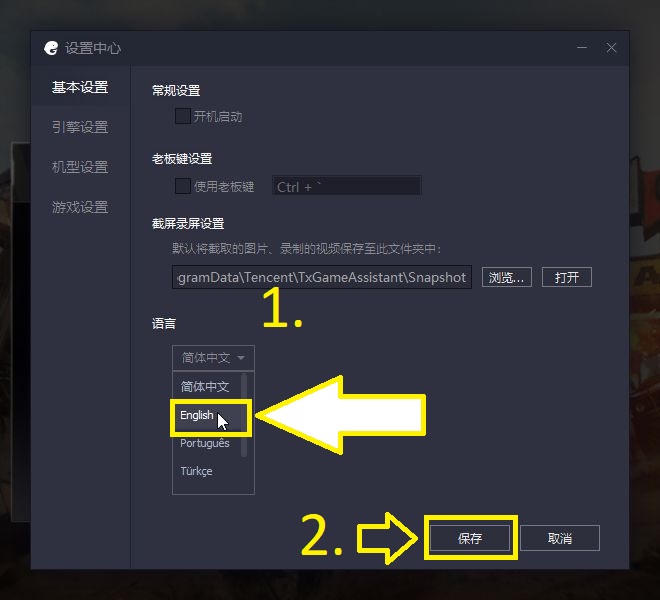 You should now have PUBG Mobile installed and in English.
Upgrading PUBG Mobile and Tencent Gaming Buddy
Whenever a new major update is available for PUBG Mobile, you should see an "Upgrade" button.
Simply click on this button to begin downloading the new game update. If you don't see the Upgrade button, press F5 to refresh the interface.
When Tencent Gaming Buddy receives an update, you'll see this pop-up message.
Click on the Update button to begin the process. The update will automatically download and install the new version.
You can also manually check for updates by opening Tencent emulator's drop-down menu and clicking on Update.
Emulator Detected Message
Every time you log in, you'll see the notice: "Emulator detected. Your team and you will only be paired with players using emulators."
What this means is you will be matched with other players who also use Android emulators to play on PC (Bluestacks, Tencent Gaming Buddy, NoxPlayer, etc.).
The reason for this is to keep fairness for mobile players who play on touchscreens so you won't be able to join mobile-only matches.
If you have friends who play on iOS or Android mobile devices then you can still invite them for duo and squad matches.
All the game's functions will still work like normal.
Configuring Game Settings for Tencent Emulator
Enable Peeking
By default leaning is disabled, so you'll need to enable it if you want to lean.
Open the in-game settings. Look for Peek & Fire and click on Enable. Leaning is automatically assigned to Q and E.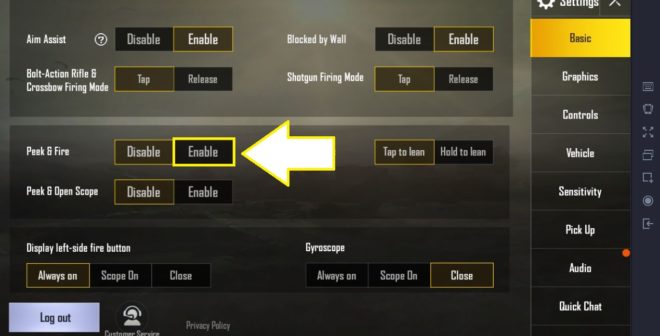 Graphics Settings
The game's performance on the Graphics details will vary depending on your computer's specifications. Most mid-end to high-end PCs should have no issues running on HD or HDR graphics, while low-end PCs such as laptops with integrated graphics cards should choose Smooth or Balanced.
Frame Rate can also be adjusted here. Generally, Extreme is the best option and will provide 60FPS if your PC can support it. If it's not available to you, then choose the next highest setting (Ultra, High, etc.). Currently, the FPS is capped at 60 and is currently not possible to go any higher.
You can adjust Style for added effects. Classic style will have the best performance, while Realistic will offer the most details.
Anti-aliasing will make the textures in the game look more smooth. This is disabled by default. If you enable anti-aliasing and notice graphical issues, then try disabling this first.
Once you're finished adjusting the graphics, click on OK at the bottom of the screen.
Sensitivity Settings
To adjust mouse sensitivity and camera views, you'll need to adjust the in-game sensitivity controls.
Camera Sensitivity (free look) will control free look speed (Alt + Mouse Movement) in TPP and FPP modes.
You can adjust sensitivity levels for all the various scopes and camera views which will impact your mouse movement.
Ignore Gyroscope controls as this is for mobile devices only.
That should be it for changing the main settings on Tencent Gaming Buddy. Everything else in the game's settings can be changed to your own preference.
Tencent Emulator Settings
Tencent Gaming Buddy has several options. Open the top-right menu again and select Settings.
Click on the Engine tab.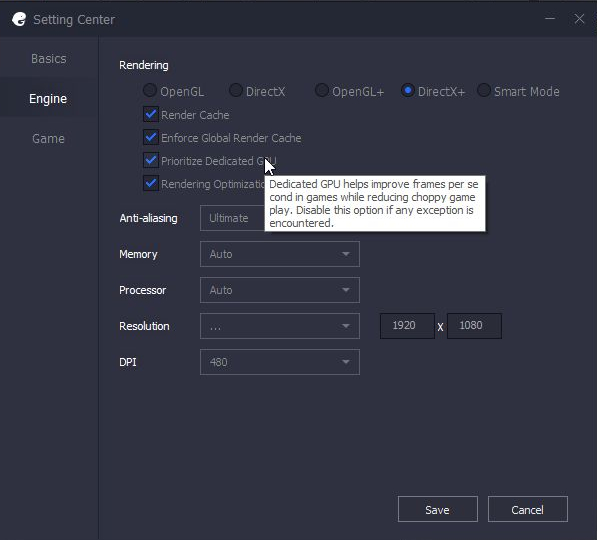 Rendering modes determine how the game will render itself. Smart Mode is selected by default, which means the emulator will choose the best mode for you. To see which mode it has chosen, click on the top-right menu > About.
Generally, DirectX is the better option for most computer setups, but others may need OpenGL instead.
The OpenGL+ and DirectX+ modes support OpenGL ES 3.0 which is useful if a game requires it.
Render Cache, Enforce Global Render Cache, and Prioritize Dedicated GPU are options which can affect the game graphics and performance of the emulator. Leaving them checked should increase performance, but you can experiment with adjustments. Hover over these settings with your cursor to learn more about them.
Anti-aliasing will have an impact on GPU performance. for low-end computers, it's best to choose Close (disabled). High-end computers can choose Balanced or Ultimate.
You can change the memory and processor core settings. Usually, it's best to leave them on Auto.
Resolution should be set to the same setting as your screen monitor.
Next click on the Game tab.
Gaming Resolution should have the same setting as the previous resolution option. By default it is 720P (1280×720).
Checking Game Performance
If this is your first time playing PUBG Mobile on Tencent Gaming Buddy, you may want to enter training mode before starting a real match and to check the game's performance on your PC.
You can monitor the FPS (Frames Per Second) of the game within TGB. Click on the top-right menu in the emulator and enable "Show FPS". You'll see an FPS counter in the top-left corner of the screen.
Play around with the various weapons and scopes. Adjust sensitivity controls mentioned earlier if needed.
Monitor the FPS rate. If it's below 30 or fluctuates too much, then try lowering the graphics settings.
Keymapping Controls
Tencent Gaming Buddy uses smart keymapping by default. This means nearly all the controls in-game will be mapped to keys for you.
You shouldn't have to change anything here if you're using smart keymapping.
Some of the PC controls are listed on the right side of the emulator.
For a complete list, see below.
---
Controls List (PUBG Mobile Tencent Emulator)
Lock or Unlock Mouse: Ctrl / ~
Enter/Exit Fullscreen: F11
Move: WASD
Jump: Space
Crouch: C
Prone: Z
Run: Hold Shift / =
Action (open doors, parachute, pick up items, etc.): F / G / H
Collapse Loot Menu: Esc
Free Look: Alt + Mouse Move
Weapon One: 1
Weapon Two: 2
Pistol: 3
Fire weapon: Left-Click
Aim/Scope: Right-Click
Adjust Zoom on 6x and 8x Scope: Mouse Wheel
Change Firing Mode: B
Reload: R
Lean Left/Right (if enabled): Q / E
Open Inventory: Tab / I
Frag Grenade: 4
Smoke Grenade: 5
Molotov/Stun: 6
High/Low Toss: Right-Click
Cancel Grenade Throw: F
Med Kit: 7
First Aid Kit: 8
Bandage: 9
Energy Drink/Painkillers/Adrenaline Syringe: 0
Interactions: F4
Map: M
Remove Marker: Right-Click
Zoom In/Out: Mouse Wheel
Open Menu: Esc
Speaker Options: T
Voice Options: Y
Vehicles
Enter/Exit: F
Change seats: C
Speed Boost: Hold Shift
Horn: G
Get In (when not driving): G
Motorcycle
Rotate forward/Backward: Q / E
Swimming
Swim Up/Down: Space / C
---
Using a Gamepad Controller for PUBG Mobile
To use a PC controller, select the gamepad option and connect a controller to your computer.
You'll need to enable the two secondary keys. Direction (for movement) and Camera for controlling the in-game view.

You'll also have to manually input all button mappings. To do this, click on any part of the screen you want to emulate, then press the button on the controller to bind the action.
Controller actions are very limited, so you may need to use your mouse cursor at times for certain parts in the game.
As an alternative, it's possible to use a program called JoyToKey instead to emulate mouse and keyboard actions on a controller.
Secondary Settings
To hide the key displays on-screen uncheck "Display key mapping tips" or press F1 while in-game.
The brightness in-game can also be adjusted here. By default, it is set to 100%.
Troubleshooting Tencent Gaming Buddy
White Screen Error
Change the render mode if you're seeing a white or distorted screen after launching the game. Different computers may require a specific render mode to display correctly.
Set it to DirectX+, or if it's already set to that, then use OpenGL+.
It may also mean that your graphics card is incompatible, especially if it's not a modern dedicated card.
Use the Diagnosis tool in Tencent Gaming Buddy to see your video card model.
Integrated video cards such as Intel HD Graphics 3000 may encounter issues on Android emulators like TGB.
Better video cards from HD Graphics 4400 to 630 should have better performance.
How to Fix Lag or Screen Freezes
1. Disable anti-aliasing. Screen freezing can happen if you have anti-aliasing enabled, even on high-end computers.
Go to Settings > Graphics > Anti-aliasing: Disable.
Open the emulator's settings > Engine. Make sure Anti-aliasing is set to Close (disabled) here as well, then restart TGB.
2. Check your Internet connection and monitor your in-game ping. The lower it is, the better. Play on the server located in your region to minimize lag.
3. Check your PC specs with the Diagnosis tool. If you're running the emulator on a Core 2 Duo CPU with 4GB RAM then it may be very slow due to the hardware. Make to sure to run TGB with a processor powerful enough to run the emulator.
Voice Chat Is Not Working
Disabling and enabling voice chat or restarting Tencent Gaming Buddy may fix the problem temporarily.
The in-game voice chat is very buggy and may not work consistently.
If you play with friends, then I highly suggest agreeing to use a voice program like Discord for communication. It is available for mobile and PC.
Smart Keymapping Is Not Working or Misaligned
1. One solution is to reset the keymapping. Open TGB's kaymapping screen and click on Reset, then save changes.
2. Check to make sure the resolution is the same as the game and your monitor screen.
Open TGB's menu and go to the Engine tab. Set the Resolution to your monitor's resolution screen (for example, if it's 1920×1080, then select that option in the menu).
Next, open the Game tab and set Gaming Resolution to the same setting as the previous (example: 1920×1080). Save changes and restart the emulator.
3. You may need to re-download the keymapping configuration to fix it. Usually when PUBG Mobile is started and there's a new keymapping update then you should see this message.
You may need to disable your antivirus or firewall to receive any updates or try reinstalling TGB.
Emulator Starts in Chinese. How to Change It to English
Launching PUBG Mobile will sometimes result in TGB starting in the Chinese language.
To change the in-game language, click on the language selection icon in the top-right corner of the screen and select English.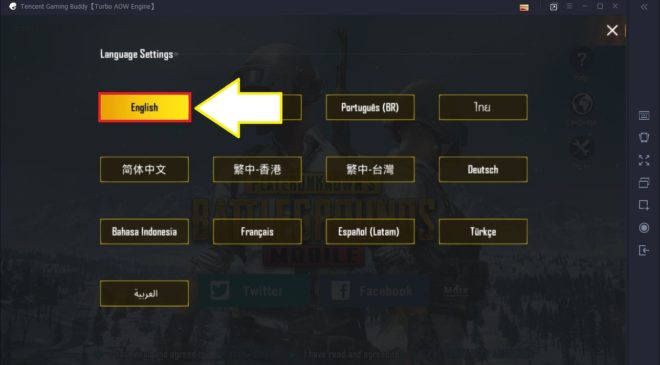 To change the emulator's language, open Tencent Gaming Buddy's menu in the top-right corner. Select the second-bottom option.
From the drop-down menu, choose English.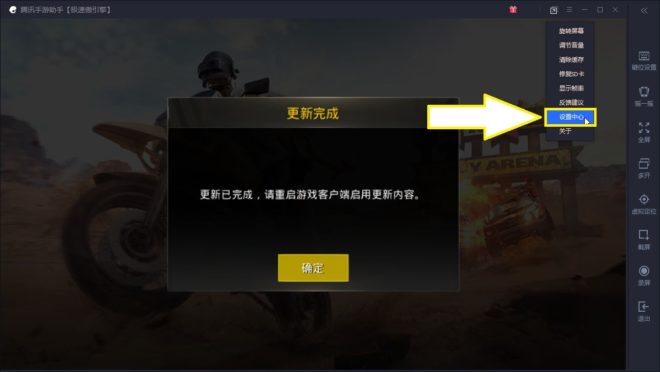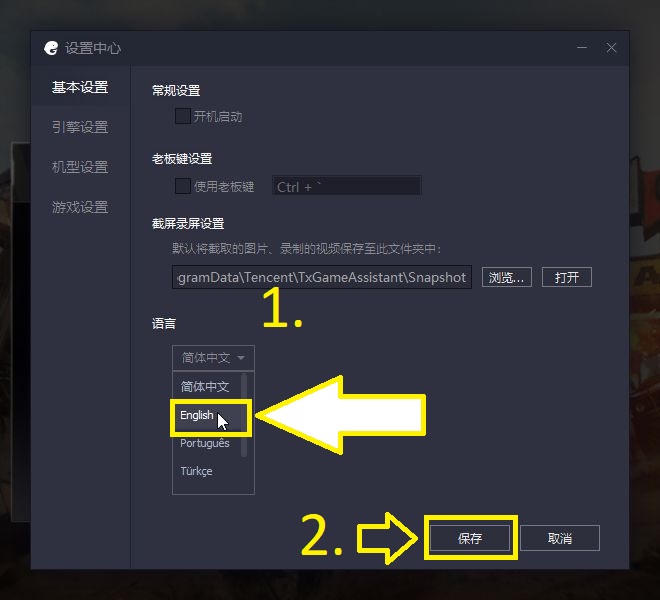 Save settings and restart the emulator.
Game Re-Downloads After 100% or Not Installing
One common issue is the game downloads to 100%, then restarts to 0% again in a loop. This is likely a bug in the emulator but could also be other factors.
Navigate to D:\Temp\TxGameDownload\MobileGamePCShared on your computer and look for Game_com_tencent_ig_0.x.0 in this folder. This is the APK the emulator is trying to download.
If you don't see this file, then it could be getting blocked or removed by an antivirus on your PC.
Try the following:
Reboot your PC.
Disable any antivirus or firewall you have running. Aggressive antivirus software can block downloads like these.
Delete the MobileGamePCShared folder.
If it's still not working, then follow the alternative download instructions.
Unable to Log in with Google Play
Attempting to log in with Google Play will display the error "Google Play services version unusable".
This is because the emulator (a public beta) does not currently support Google Play services yet. The only services supported are Facebook, Twitter, and guest accounts.
Failed to Login Game Error
If you're unable to log into your account, then try the following:
1. Reboot your PC.
2. Disable any antivirus or firewall you have running.
Failed to Initialize Rendering Engine Error
This problem happens if your drivers are outdated or your graphics card is unsupported.
Open Device Manager on your computer. Look under Display adapters for your video card. Right-click and select Update Driver.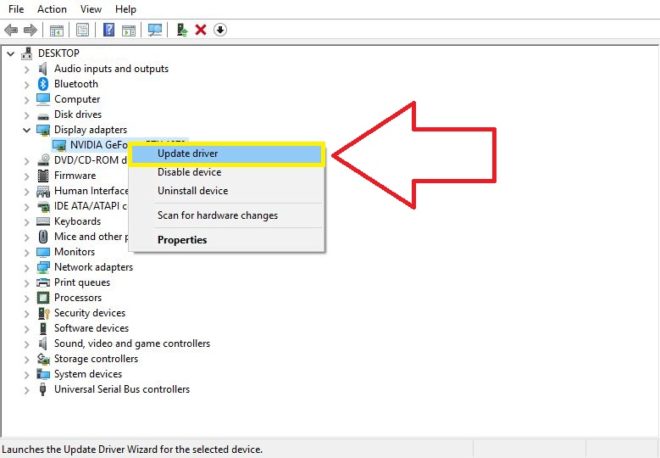 PC Performance Tests
Here are a few test results from various computer specifications I've tried running PUBG Mobile on Tencent Gaming Buddy. Hopefully, this will help you on what to expect from the game's performance on different hardware setups.
PC Test #1: Low-End Desktop (Low Profile Video Card)
OS: Windows 7 SP1 64-bit.
CPU: Intel Core 2 Quad Q6600 @ 2.40GHz.
RAM: 4GB.
Graphics: Nvidia GeForce GT 610.
DirectX Version 11.
Emulator settings
Render Mode: DirectX+.
Anti-aliasing: None.
Memory/Processor: Auto.
Screen/Gaming Resolution: 1280×720.
In-game settings
Graphics: Smooth.
Frame Rate: Extreme.
Style: Classic.
Anti-Aliasing: disabled.
Results: Average FPS was 30-40. Occasional screen freezes, but still playable.
PC Test #2: Laptop (Integrated Graphics Card)
OS: Windows 8 64-bit.
CPU: Intel Core i7-4500U @ 1.80GHz.
RAM: 8GB.
Graphics: Intel HD Graphics 4400.
DirectX Version 11.
Screen Size: 1366×768.
Emulator settings
Render Mode: DirectX+.
Anti-aliasing: None.
Memory/Processor: Auto.
Screen/Gaming Resolution: 1280×720.
In-game settings
Graphics: Smooth.
Frame Rate: Extreme.
Style: Classic.
Anti-Aliasing: disabled.
Results: Average 40-50FPS. Screen freezing was much less compared to the previous PC test.
PC Test #3: Gaming Desktop (Dedicated Video Card)
OS: Windows 10 64-bit.
CPU: Intel Core i7-7700 @ 3.60GHz.
RAM: 16GB.
Graphics: Nvidia GTX 1070.
DirectX Version 12.
Screen Size: 1920×1080.
Emulator settings
Render Mode: DirectX+.
Anti-aliasing: Ultimate.
Memory/Processor: Auto.
Screen/Gaming Resolution: 1920×1080.
In-game settings
Graphics: HDR.
Frame Rate: Extreme.
Style: Realistic.
Anti-aliasing: Enabled.
Results: Average FPS stayed at 59 but would drop to around 45FPS if multiple players were in the same area firing weapons. Screen freezing would rarely occur, but disabling anti-aliasing seems to fix it.
Further Reading
Check out the official Tencent Gaming Buddy forum and their Facebook page.
You can also see the FAQ there for additional answers and solutions.