Updated on by PlayRoider
Critical Ops by Critical Force is one of the most popular and competitive First-Person Shooter multiplayer games on Android and iOS. It's a similar mobile alternative to Counter-Strike: Global Offensive on Steam from Valve. There's plenty of weapons to choose from and includes Deathmatch and Defuse Bomb Modes. Five maps (including the new Brewery map) are available to play on.
Critical Ops for PC used to be available on Facebook Gameroom until it was closed down so the developers could focus on the mobile app. However, you can still play on PC with Android emulators. The following app players have been tested to work for latest versions of Critical Ops as of v0.9.5.f309:
You can start playing C-Ops for PC again if you were a Facebook Gameroom player, or if you prefer a free CS:GO on the big screen with mouse and keyboard over a smartphone or tablet. Below is a setup guide to get started.
How to Download and Play Critical Ops on PC
Step 1
Getting the game to work is somewhat of a lengthy process, but it can be done. You'll need to download an Android emulator for PC. Nox App Player is recommended as it includes many useful features for playing Android games smoothly. Download Nox from the official website: bignox.com
You can also use MEmu, another Android emulator: memuplay.com
Or Bluestacks.
(Note: if you decide to play Critical Ops on Bluestacks, you can skip step 4-5 in the installation guide below)
Step 2
Next you need to download the APKPure app. This will enable you to install Critical Ops with its included data + OBB files. Download APKPure app and then install it into your emulator.
Step 3
Open the APKPure app and search for Critical Ops, then click the install button. The app will start the download.
Step 4
After the game is installed, you won't be able to play it yet as it'll display the "version out of date" error. To correct this, you'll need to download another app. Go into the Google Play Store or APKPure and download the Multiple Accounts: 2 Accounts app.
Step 5
Open Multiple Accounts: 2 Accounts and add Critical Ops to the list of enabled apps, then start it. Now the game will load. Remember, you'll need to open the game through the Multiple Accounts: 2 Accounts app anytime you want to play.
Critical Ops on PC Controls for Keyboard Mapping
All the controls for Critical Ops can be mapped to keyboard and mouse on PC, and you can arrange them however you want them. This is one example is a full keyboard mapping setup with Nox App Player.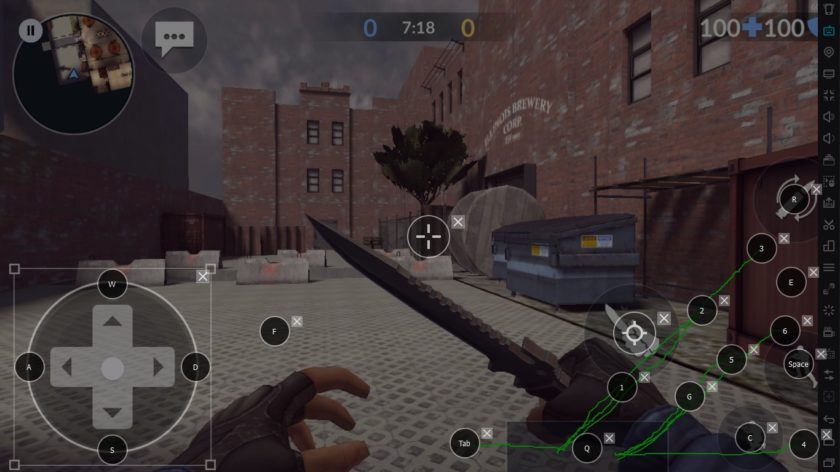 Now here's another one inside MEmu Android emulator.
Finally, this is another setup from Bluestacks.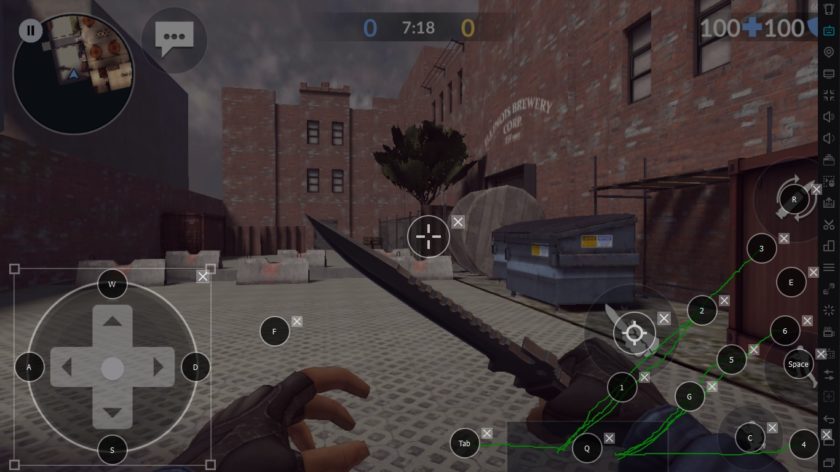 Critical Ops PC Controls
Left-mouse: Fire weapon
Right-mouse: Toggle Shooter Mode
WASD: Move
SPACE: Jump
C: Crouch
E: Scope
R: Reload
F: Defuse bomb/shop
Q: Switch weapon
1: Primary weapon
2: Secondary weapon
3: Knife
4: Plant bomb
G: Frag grenade
5: Flash grenade
6: Smoke Grenade
TAB: Drop weapon
---
Critical Ops on PC Tips for Settings
Aim sensitivity is too high
You can control the aim sensitivity horizontal and vertical controls in Settings > General. Adjust them to what you prefer for aiming with a mouse.
Aim acceleration will increase aim speed in all directions. You may want to set this 0% since you can adjust the sensitivity levels using the settings outlined above.
Aim assist will slightly move your crosshair towards your target when your aim is near them. This is better set to very low or disabled for precise aiming.
Critical Ops on PC is too laggy or low FPS on Android emulator
The easiest way to increase FPS (frames per second) is to lower the in-game graphic settings to Medium or Low.
If you're still getting low FPS, try any of the following:
Allocate at least 2 CPU cores and 2GB RAM to your Android emulator.
Check to see if you're using OpenGL or DirectX as your graphic rendering mode. Usually, OpenGL works better, but if not, try DirectX.
Check that your graphics card is using high performance.
Movement is too slow
Make sure to resize the directional pad in your emulator to be just slightly larger than the joystick on-screen.
---
If you have any further questions or feedback, just drop a comment.