MEmu is a fairly new Android emulator for PC out on the market created by Microvirt. Its primary audience is geared towards the Android gaming community with the advantage of playing popular mobile games on PC. MEmu even claims to be better than Bluestacks, which as of Bluestacks 3, is not terribly difficult to do. I've been using this emulator for a few months, and while its performance isn't perfect, it does have many features that makes it a strong contender as one of the best Android emulators available.
MEmu has a lot of hardware and software compatibility with most computers. There's support for Intel and AMD chipsets, dedicated and integrated graphics cards, and runs on Windows 10, Windows 8, Windows 7, and older versions. The offline installer is about 340MB to download, but has a simple installation process.
At any rate, let's dive into this review.
Official website: http://www.memuplay.com/
XDA-Developers thread: https://forum.xda-developers.com/android/apps-games/memu-powerful-android-emulator-to-play-t3157906
Interface: Is the MEmu Android Emulator Pretty?
MEmu comes with Android 4.4.4 KitKat by default, a mobile operating system which is about 3 years old. However, you can change this to use 5.1.1 Lollipop. More on that further in this review.
The home screen shows a generic wallpaper, nothing fancy. Navigating around in the emulator is straightforward. The Google Play Store is included, along with the Settings app and ES FIle Explorer to manage your files. Various menu items are displayed on the right side of the interface, such as keyboard mapping, full screen option, one-click installs for APk files, etc. These can all be adjusted in a convenient drag-and-drop Toolbar setting.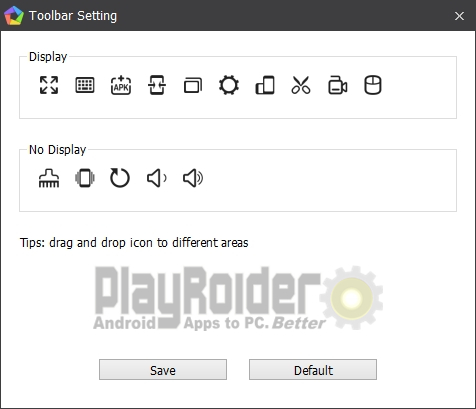 Features: Loaded with Goodies
MEmu comes packed with a big toolbox of options to configure the emulator, the most important for gaming being keyboard mapping. Simply click an area of the screen with your mouse and input the action key you want to use for the game's controls. There are also special mapping options for MOBA and FPS games.
As mentioned earlier, the MEmu Android emulator has a button for one-click APK installs, making it easy to install Android apps. Simply navigate to the Android package on your PC you wish to install.
It also comes with a set of utilities for gameplay. You can take screenshots and save them onto your computer. A video recording feature with the options of high or low quality. A Operation Record feature, which is basically recording and running macros to grind monotonous tasks. Surely this will come in handy for some MMO games.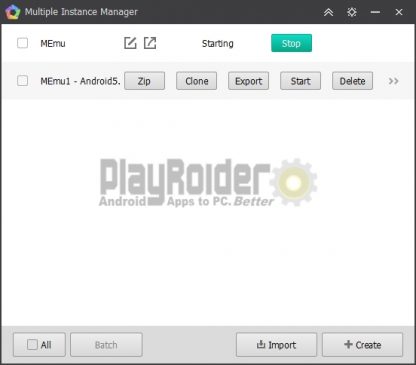 MEmu can run multiple instances, or having more than one MEmu app player running at the same time. What makes this so unique compared with other Android emulators is its ability to use two different versions of the Android operating system at the same time: Android 4.4.4 KitKat and 5.1.1 Lollipop. You can use Lollipop in the instance manager by clicking "Create". However, you'll need to download the software separately since it doesn't come included with MEmu's installer.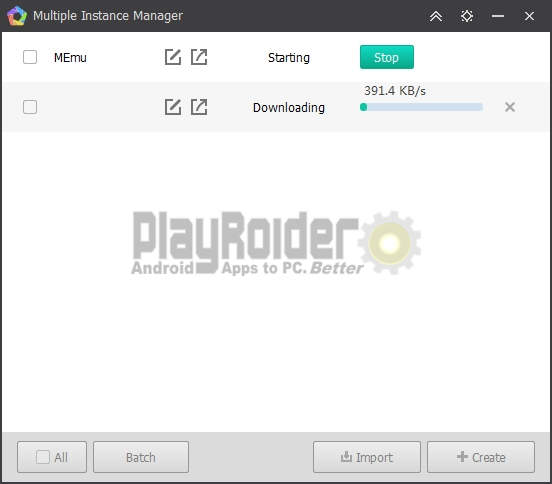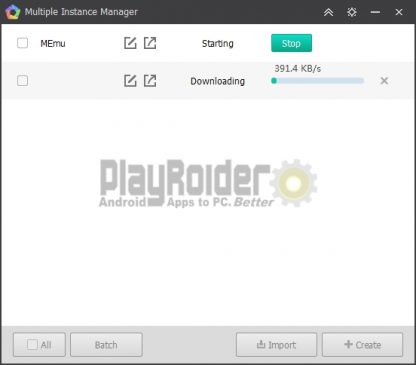 When the download is finished though, you can launch another MEmu app player with Lollipop 5.1.1 installed.
So now you'll be able to run Lollipop alongside KitKat.
The website states that there's support for Android Jelly Bean too, but I don't see any option to use it, and I haven't tried finding out how.
There's also a import/export option for each instance of the MEmu Android emulator, so you can make backups.
Under the Hood: Plenty to Configure
Taking a look at what's under the hood, MEmu comes with plenty of options for adjusting its performance.
You can allocate any amount of memory and CPU cores (providing your PC system can handle it). The Screen resolution can support up to 4k to play games in all their stunning HD glory.
The advanced options gives you access to change the device model, IMEI, SIM card, and phone number. These are useful for developers when app testing.
This comes as a pre-rooted Android emulator out-of-the-box, but if you prefer to change that, you can disable it.
There are 4 share folders between PC and the MEmu emulator: Music, Videos, Pictures, and Downloads. They can all be found in the respective folders in Windows, but if you prefer them to be elsewhere, you can modify that.
Personally, I feel that one shared folder is enough. I only use the Downloads folder to transfer files of any kind, but it's good to know there are other folders available should I need them.
If you use location-based games or services, the GPS setting will come in handy for you. You can change your virtual location on the map and any app you're using will use your selected location. Tired of chatting with people in Los Angeles on that local singles app? Switch locations and check out Philadelphia, if that's your thing.
Performance: MEmu Tries to Bring out the Best in Android Gaming
With all the features the MEmu app player provides, it's time to know how well it performs with actual gameplay. I tried two graphically demanding 3D games for Android: Forsaken World and Critical Ops.
I played Critical Ops using the MEmu Android emulator for better keyboard mapping controls over Bluestacks and Nox, but Critical Ops on PC can be played on most Android emulators. It's a fast-pace First Person Shooter game which includes Deathmatch and Defuse Bomb modes like in Counter-Strike: Global Offensive. MEmu performed well for me running at 50-60 FPS, but I ran into some graphical issues and occasional frame drops depending on my location. I fixed the frame drops by adjusting graphics to medium settings, but sometimes high settings was okay.
Forsaken World is a MMORPG game I played about a year ago. It's a 3D open world mobile game with a lot of heavy graphical elements (think giant dragons and large mounts). I found in my play-through that the MEmu Android emulator could render the graphics very well, but I found some stuttering issues while traveling at times.
For more performance details, check out the benchmark tests in comparison with other Android emulators for PC.
Conclusion
MEmu is fast, responsive, and does what it sets out to do: playing Android apps on PC with a superb performance. There is still some room for improvement, but if you're looking for a good gaming Android emulator, this one will satisfy most needs.