Updated on by PlayRoider
There has been a slow number of Android emulators popping up lately, each with their own features. A question occasionally rises: which are the best Android emulators for PC? The answer to that may come down to personal preference. This page however will attempt to find the best Android emulators by benchmark performance tests rather than by features.
Determining the Best Android Emulators for PC
Two benchmark tools were used: AnTuTu Benchmark, a popular choice. And 3DMark, another widely used benchmark tool for testing the performance of graphics of a device.
The following Android emulators were tested:
Bluestacks 2
KOPLAYER
Remix OS Player
AndyOS
Droid4X
Version numbers of the emulators as well as the version numbers of the benchmark tools used are listed in the test results.
PC system information used for performing the benchmark tests:
Windows 8
Intel Core i7 4500U CPU @ 1.80GHz (2 cores)
8GB RAM
Intel Integrated HD Graphics
Virtualization Technology enabled
Configurations used for the tested Android emulators:
2 CPU cores
2GB RAM
1280 x 720 Resolution at 192 DPI
OpenGL (compatible mode)
AnTuTu Benchmark
AnTuTu Benchmark is a widely used benchmark tool for testing devices. It covers CPU, RAM, GPU, UX, and other hardware of the device.
Below are the test results for each emulator. Click the images to enlarge them.

Generally, Bluestacks 2 and Bluestacks 3 performed well under 3D graphics, while Remix OS Player handled CPU multitasking the best, probably because it's designed to be more of an operating system designed for multitasking.
All app players tested archived a mid-level 3D grade, but a high-end grade in CPU usage.
Below is a visual graph of the total scores.

AnTuTu Benchmark test results:
Remix OS Player
Bluestacks 3
Bluestacks 2
MEmu
Nox App Player
KOPLAYER
Droid4X
AndyOS
---
3DMark
This is a benchmark tool for testing physics (CPU) and graphics (GPU) on devices. Since most app players for PC are marketed for playing Android games, 3DMark seemed like a good fit. The Android emulators tested passed through two types of tests provided by 3DMark: Ice Storm Extreme and Ice Storm Unlimited.
Note that Sling Shot mode was unavailable due to OpenGL ES 3.0+ being unsupported.
Here's how they stacked up in the numbers with Ice Storm Unlimited. You can see the CPU and GPU scores as well as Android operating system versions the emulators are using. Click on the images to enlarge them.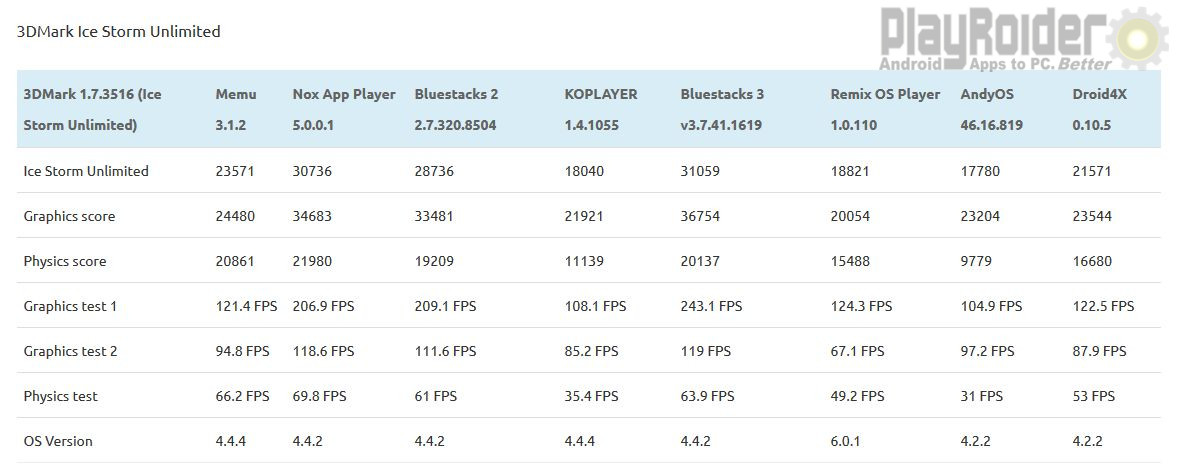 Bluestacks 3 and Nox App Player finished very close, with Bluestacks 3 having the slight advantage in the graphics score while Nox won the physics score. Below is the visual graph of total scores.

3DMark Ice Storm Unlimited test results:
Bluestacks 3
Nox App Player
Bluestacks 2
MEmu
Droid4X
Remix OS Player
KOPLAYER
AndyOS
---
Next up is 3DMark's Ice Storm Extreme test. This mode shows a visual and graphically intensive cinematic screens for testing.

Interestingly, MEmu and Nox led the way with the better performance in the physics test. MEmu, Nox, Bluestacks 2, Bluestacks 3, and Droid4X all performed well in all the categories. It is notable to see that Droid4X, a lesser known Android emulator for PC, performs on par with Bluestacks.

3DMark Ice Storm Extreme test results:
Nox App Player
MEmu
Bluestacks 3
Bluestacks 2
Droid4X
KOPLAYER
AndyOS
Remix OS Player
---
While the benchmark tests are not always 100% accurate, it does give a better view on finding the best Android emulators for PC based on their performance. Generally, most Android apps with intensive graphics will run well on any of the emulators providing you're using a modern PC. A dedicated graphics card should enhance performance as well. I'll be testing more Android emulators for PC in the future.