Updated on by PlayRoider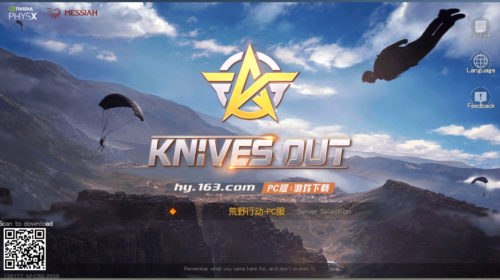 If you've been following along with the updates notes, You'll notice that Netease Games has a Knives Out PC version available on Windows for quite some time. However, Netease doesn't promote it well enough to a point that some players don't even know it exists.
While the Rules of Survival PC version has been the popular choice for players (also developed by Netease) since the release of its English client, Knives Out is a PUBG-like battle royale game where 100 players drop onto a island and battle each other for survival until one player or team survives. Game modes include solo, duo, squad, and even "fireteam" with 5 players. If you enjoy PlayerUnknown's Battlegrounds, then you might like some of the unique game modes this free alternative game provides.
This guide will show you how to download, install, and play Knives Out PC version without the need of emulators. You'll also learn how to change the language settings to English and play fullscreen.
You must have the Chinese version of Knives Out (named "Wilderness Action") installed on your mobile device. You'll see how to do this in the following steps.

Step 1 (PC)
Download Knives Out PC version client
From your computer, download the client launcher from: hy.163.com
---
Step 2 (PC)
Open the application. Accept the license agreement.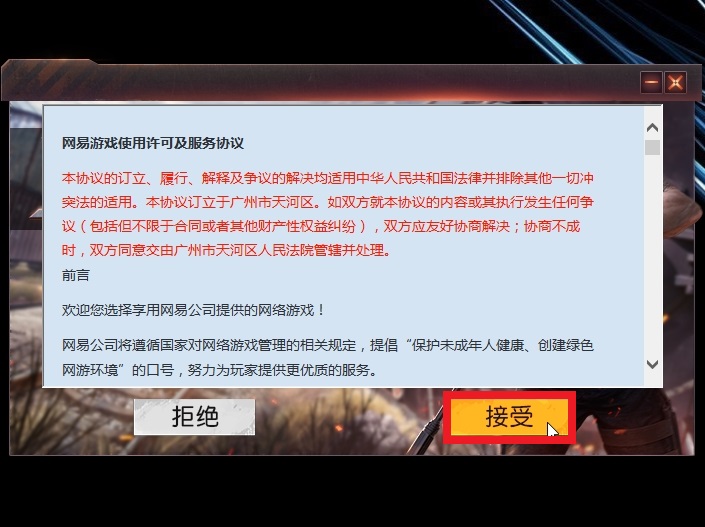 Step 3 (PC)
Choose the file path on where you want Knives Out installed.
Installation will now begin. Knives Out will download game data (about 750MB), which will take some time. Afterward, the game will launch.
When it's finished, you'll notice a QR code.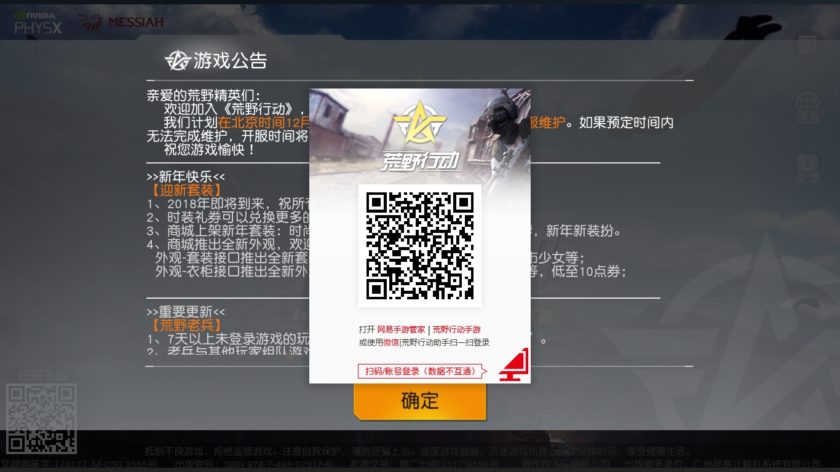 You need to scan this code every time if you want to play on PC. For this, you need the Chinese mobile version app called Wilderness Action to complete the scan. The steps to do this are below.
Step 4 (MOBILE)
From your mobile device, go on your web browser and download the Chinese mobile app Wilderness Action APK (same game as Knives Out) from hy.163.com/m
Step 5 (MOBILE)
Make sure you have the correct app installed first. The "Knives Out" app does not include the scan function. "Wilderness Action", which is the local Chinese version, is the app you need.
Install and open the Wilderness Action app. It will download some additional game data files (about 40MB).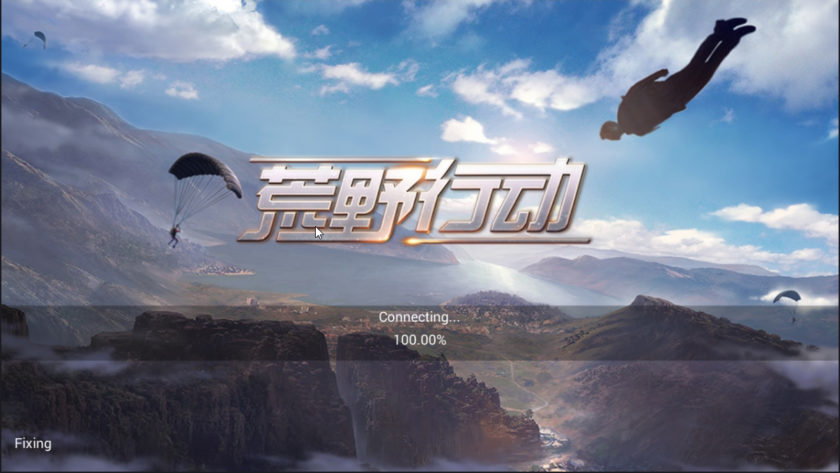 Step 6 (MOBILE)
When you first launch the game, you'll see a login screen. Tap the left option (the controller with a blue background).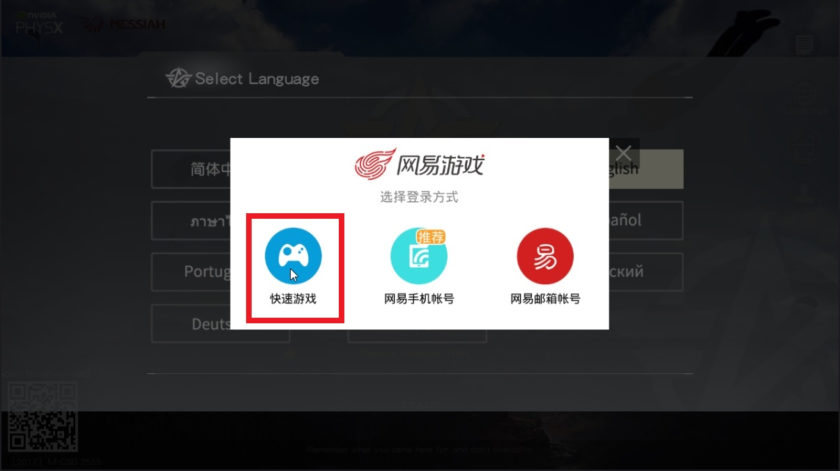 Step 7 (MOBILE)
Choose the right option.
Step 8 (MOBILE)
Select your language. English is available.
Step 9 (MOBILE)
Accept the terms agreement.
Step 10 (MOBILE)
At the main menu screen, tap on "Scan" on the right side of the screen.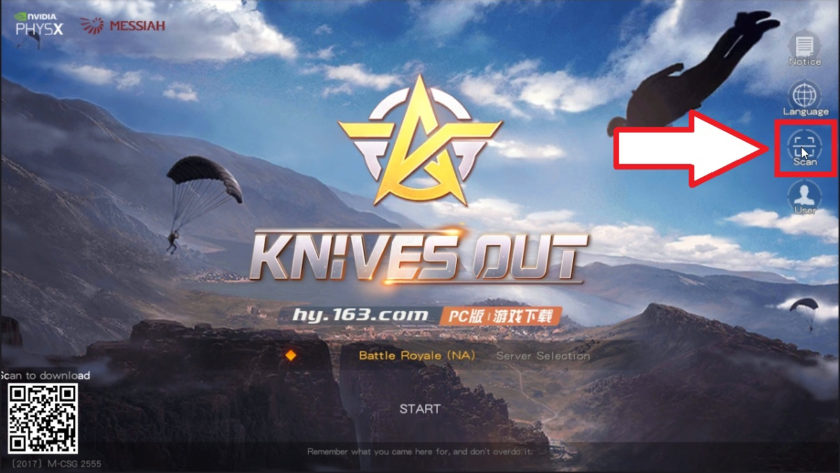 Step 11 (MOBILE and PC)
Using your mobile devices, point your camera at the QR code displayed on your computer screen.
Step 12 (MOBILE)
After you successfully scan the QR code, tap to confirm the login.
Step 13 (PC)
Choose your language. English is available, but so are other languages. The translations are a bit rough and some text is not translated correctly, but you shouldn't have any issues in most cases.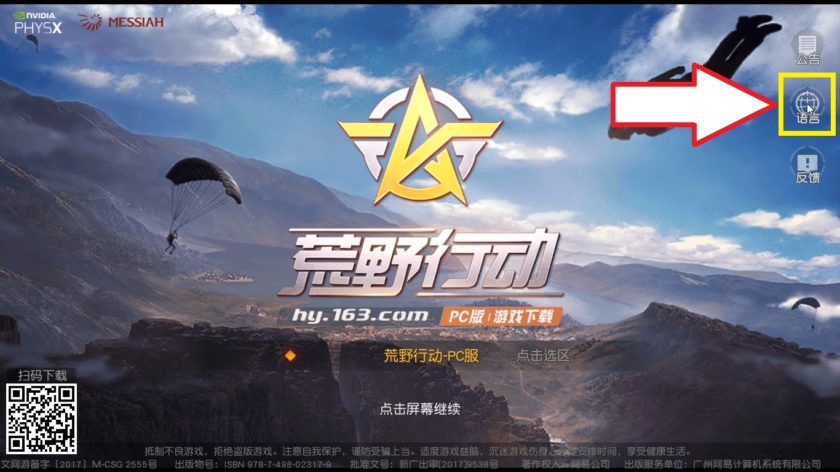 Click "Tap to Continue". Now you can create your character and play!
Knives Out PC Version Tips and FAQ
How to play Knives Out Fullscreen?
Go to in-game settings. Check "Full Screen on PC".
What are the PC controls for Knives Out?
All the controls can be found in the game's settings "Controls for PC". You can't change the controls though.
Can PC players play with mobile players?
No. PC players will connect to a PC server only, while mobile players connect to the mobile servers. Therefore, it's impossible to play together.
However, you can use an Android emulator to play the mobile version of Knives Out on PC.
Do I always need to scan the QR code to play?
Yes. Unfortunately, there's no way around it.
When I try to open the mobile client (Wilderness Action), it crashes. How to fix it?
If you have another mobile device, try using that one. If is still doesn't work, then you can try using Nox App Player, an Android emulator for PC. Install the app on Nox and then use your computer's webcam to complete the scan.
I don't see a "Scan" option on the mobile version?
Make sure you're using the Chinese version. This one is called Wilderness Action and is the correct one you need. See Step 5 above.
I'm getting this error message: "Failed to create Direct3D9 device due to lack of SM3.0 support"
This error occurs when your video card is not up to date. Check to make sure you're using the latest updated drivers for your graphics card. If you still get this error, then this means your video card hardware is outdated or incompatible with the game.
What are the system requirements for Knives Out PC?
While there are no official minimum requirements, the game has been tested to work with the following computer specifications:
Windows 8
Intel Core i7 4500U CPU @ 1.80GHz (2 cores)
8GB RAM
Intel Integrated HD Graphics 4400
Windows 7
Intel Core 2 Quad (4 cores)
4GB RAM
NVIDIA GeForce GT 610
The overall performance runs a little better than Rules of Survival with a FPS of 50-60.