Updated on by PlayRoider
One of the recent big mobile game releases in the Google Play Store is Knives Out by Netease Games. Along with Survivor Royale and Rules of Survival, Knives Out is a popular free battle royale game for Android and iOS that places 100 players onto a massive island to fight each other, just like in PlayerUnknown's Battlegrounds by PUBG Corporation. Unfortunately, some Android devices–including emulators for PC–were unsupported for a while.
But recently a fix for the "sorry, your mobile device is not supported, currently" error message has been released for Nox App Player and Memu, two powerful Android emulators for PC. This males it possible to play on PC for the best gaming performance.
Below is a complete guide on how to play with keyboard and mouse using Nox or MEmu, whichever one you prefer. Both app players have been tested and confirmed to be working, but it seems Nox runs slightly better. Bluestacks is not supported at this time.
Looking for the PC version? Here's a Knives Out PC guide to get you started.
How to Download and Play Knives Out on PC for Nox App Player and MEmu Android Emulator
Step 1:
Download and install the latest version (6.0.1.0 or later) of Nox App Player from Bignox: bignox.com
If this is your first time using Nox, here's a guide to walk you through all the Android emulator's settings.
OR
You can download and install MEmu App Player (version 3.6.7 or later) by Microvirt: memuplay.com
IMPORTANT NOTE: If you're using MEmu, then you need to use DirectX+ in the app player's settings. You must also be using Android 5.1.1 Lollipop as the operating system. You can check this in Settings app > About tablet.

Step 2:
Open the Google Play Store app and install Knives Out.
Step 3:
Launch the Knives Out Android app. It should initiate by downloading resource files. This takes some time as it needs to download over 500mb.
Configuring and Optimizing Knives Out on PC
Once the game has loaded into the main menu, you'll need to adjust a few settings to play on PC for the best performance.
Go to settings (the gear icon) in the top-right corner.
In BASIC settings, change Gyro to OFF. This makes it so you can freely aim.
You may also want to turn on "High Framerate" for a small boost in FPS.
In CONTROL, choose the third option: Classic Mode. This makes it so you have a static joystick.
Under DRIVING, select the third option: Joystick Mode. You'll be able to drive by using WASD keys. W = accelerate, S = brakes, A and D for steering.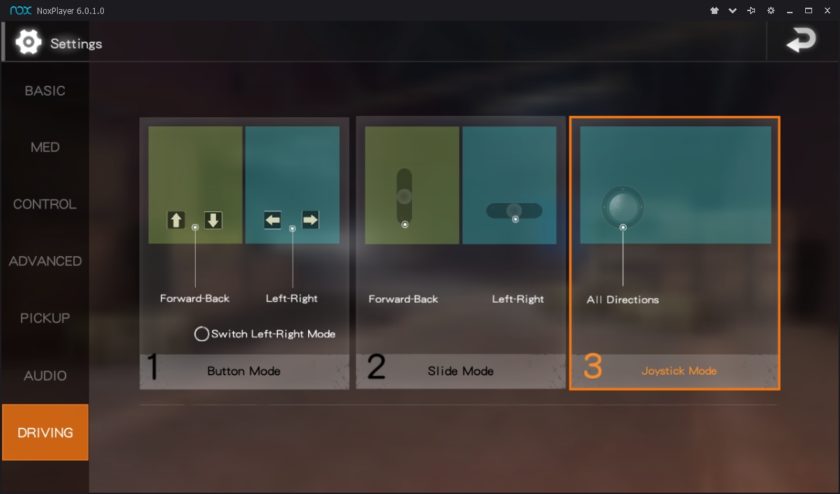 Everything else you can configure for your own preference.
Knives Out on PC Keyboard Controls Setup
Next you'll need to set keys to use for playing with mouse and keyboard using the Android emulator. Here's a screenshot of one example setup with Nox App Player.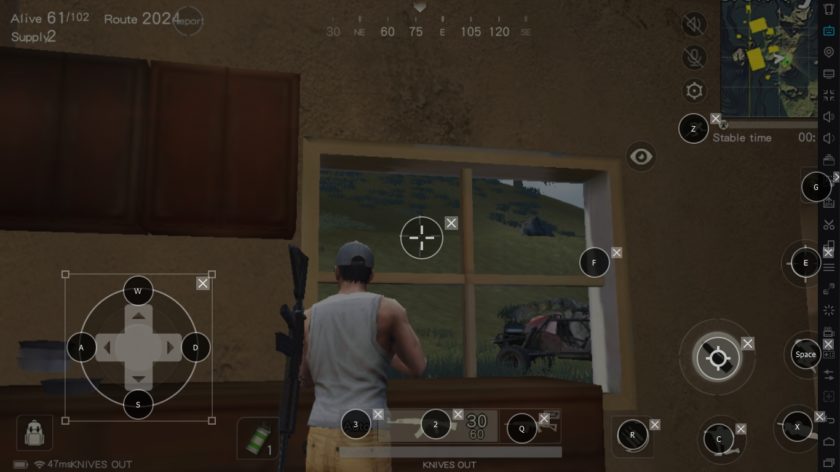 Here's another example with MEmu.
Knives Out PC Controls:
WASD: Move
Left-mouse: Fire weapon
Right-mouse: Toggle Shooter Mode
R: Reload
E: Scope
Q: Switch weapon
2: Switch current weapon
3: Switch between auto-fire and semi-fire
SPACE: Jump
C: Crouch
X: Prone
Z: Auto-run
G: Use medkits/energy drinks
F: Open/close doors, enter/exit vehicles, etc
All the controls above can be adjusted to fit your playing style. Experiment with different settings and then go for rank #1.