Updated on by PlayRoider
A while ago Rules of Survival game for Android became compatible to run on Bluestacks. Rules of Survival is currently one of the most popular battle royale mobile games on Android and iOS. RoS places 120 players on a map called Ghillie Island as everyone fights against each other to survive and be the last one standing. In addition, there's a much larger map called Fearless Fiord which places 300 players on the battlefield. You can fight alone in Solo mode or team up with friends in Duo (2 players), Squad (4 players), or Fireteam (5 players) modes.
Bluestacks previously showed a "rules of survival currently doesn't support emulators" error message, but this has been corrected in latest versions. Recent changes in the game separated low-end devices to play in Simple Mode (no grass) and Normal Mode (with grass) for performance improvement. BS3 plays using Normal Mode with grass in RoS.
Why Play Rules of Survival in Bluestacks?
If you have friends who play on mobile phones and you want to play with them on PC, you can use an Android emulator for RoS as an option to play with mouse and keyboard instead of a touchscreen. The PC version for Rules of Survival does not support cross-platform play between PC servers and mobile servers. Using Bluestacks and playing Rules of Survival on PC for mobile is the best alternative.
Download and Play Rules of Survival on PC Bluestacks Guide
Step 1:
Download and install the latest version of Bluestacks 3.
When loading the emulator for the first time, it'll prompt you to sign in to your Google Play account. Log in and you're ready to go.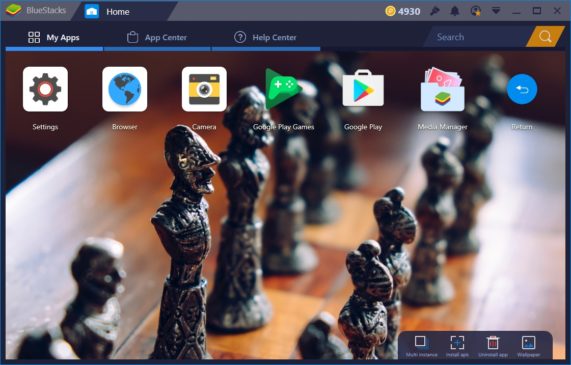 Step 2:
Go to the Google Play Store and search for "Rules of Survival". Install the app.
Step 3:
Launch the Rules of Survival game. You'll see a popup message for activating Battle Royale Mode, a feature which provides default mapped keyboard controls for you. For now, click "Start playing".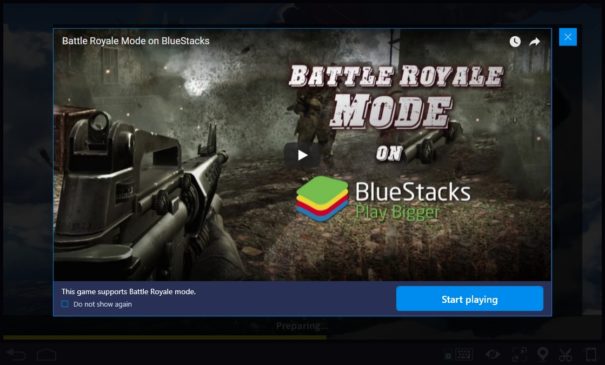 Step 4:
After the game downloads a few patches and updates, you'll see the User Agreement. Click Accept.
You'll see another window message to link your account. You can bind your RoS account using Google Play or Facebook. For now, choose "Not Now".
Step 5:
Click on "PLAY".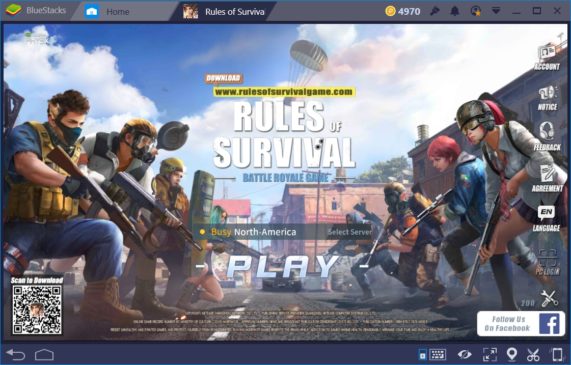 For your first time playing, you'll get to create a new character. Choose your name and then click on Create.
The game will start you off with the tutorial. You can skip this if you want to.
After the tutorial, you'll be redirected to the lobby menu.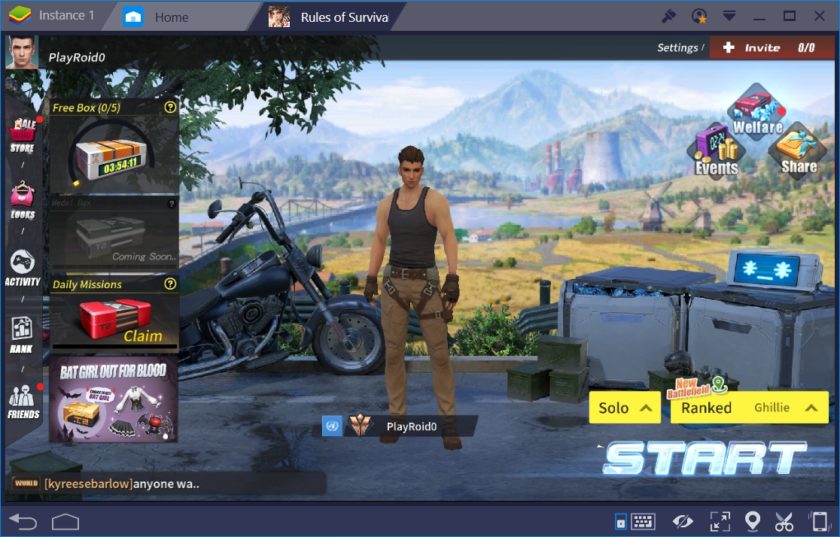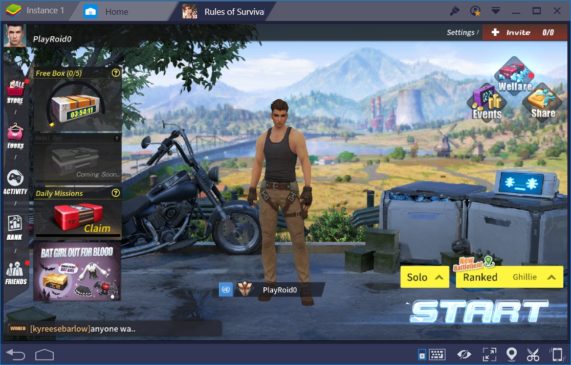 Optimizing Rules of Survival on PC for Bluestacks
Before you get started playing, you'll need to adjust a few in-game settings.
In Basics settings, switch on High FPS Mode which will give you a small boost in higher FPS.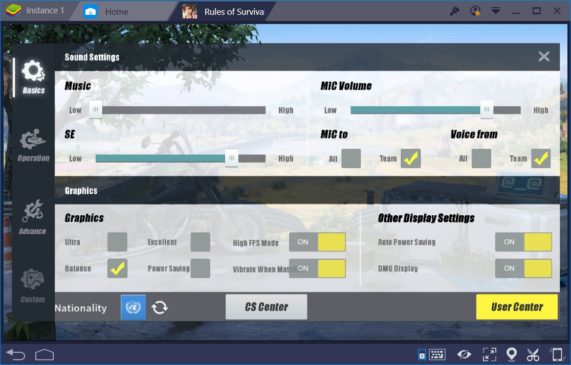 The Operation settings is where to change character sensitivity levels. You'll likely need to make some adjustments to this for aiming more comfortably with your mouse.
in Advance settings, change Vehicle Control to Comfort Mode to drive with WASD. Change the setting on the right to Classic Mode.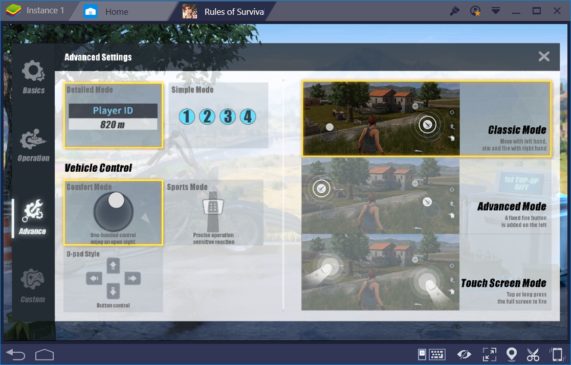 Rules of Survival PC Controls Keyboard Mapping
Bluestacks Battle Royale Mode (XPack)
By default, the Bluestacks emulator includes a Battle Royale Mode called XPack by pressing F1. The controls for this mode are mapped as follows:
Unfortunately, any changes you make will disable Battle Royale Mode and will use your custom settings instead.
If you prefer not to use the built-in settings, here's one example of custom PC controls to use instead:
WASD: Move
Shift: Run
Left-click: Fire weapon
Right-click: Toggle Shooter Mode
1: Primary weapon (reload)
2: Secondary weapon (reload)
B: Switch primary gun semi/auto
N: Switch secondary gun semi/auto
3: Pistol weapon (reload)
4: Melee
5: Use grenades
0: Use medkits
E: Scope
Space: Jump
C: Crouch
Z: Prone
F: Open/close doors
TAB: Inventory
M: Map
Reminder: You can map keyboard controls to almost anything you want.
The controls are set up similar to the PC version for Rules of Survival. The crosshair is purposely placed on the far left; this prevents the mouse movement from getting stuck when opening/closing doors or viewing the map.
Once you have your keys mapped, it's time to play and grab first place.