Over the past few weeks there's been several new and big releases of free battle royale mobile games hitting the Google Play Store and iOS App Store. A lot of them are quite similar to the PC game PlayerUnknown's Battlegrounds published by Bluehole Inc., and a lot of mobile developers are taking advantage of its popularity.
Whatever your reason is for playing battle royale games on Android, the Play Store has quite a few of them to offer now. The best part? They're all free, and the quality of Android games has come a long way. Here's a list of the top 5 free battle royale games you should try out.
Bullet Strike: Battlegrounds
This game made its first public beta release on November 8, 2017 in selected countries. Every game starts off with 20 players randomly placed around a map (sadly, there's no parachuting in the game at this time). The controls and animations are a little clunky and the game map is a bit small compared to other apps on this list, but the devs are still actively improving the game with planned content to come soon. There are leaderboards, but no vehicles or gun attachments. You can check out the Bullet Strike: Battlegrounds website or follow them on their Facebook page for future updates.
If the game is not available to you in your country, you can download it on PC from the Google Play Store in any country with this tutorial.
Download Bullet Strike: Battlegrounds from Google Play Store
Rules of Survival
NetEase Games is the developer of this game, and they've released a few battle royale games in China before porting them to other languages. Rules of Survival has nearly everything you'd expect from a mobile PUBG game. There's different types of vehicles to choose and a wide assortment of guns with attachments from grips to 8X scopes. There's a huge map to explore, ranked matches, leaderboards, friends list, beautiful graphics, and even voice chat for duo and squad modes. What's better? Rules of Survival goes a step further with up to 120 players in one game.
With so much going on, it takes a fairly powerful Android device to run smoothly, but Rules of Survival on PC with an emulator runs generally well. A recent update has improved game optimizations, making it easier to play.
Two other Battle Royale games from NetEase to mention here are Survivor Royale and Knives Out. Unfortunately, Android emulators for PC appear to be unsupported for these games at this time. There may be a workaround, but time will tell on that.
December 1, 2017 UPDATE: Both Survivor Royale and Knives Out are now playable on Nox and MEmu.
You can follow Rules of Survival on Facebook.
Download Rules of Survival from Google Play Store
Last Battleground: Survival
You play with up to 40 players in this Android battle royale survival game. It comes with several guns to pick like UMP5, M416, Kar98k, and others. Gun attachments, painkillers/energy drinks, and armor are also included.
Everyone plays on a big map, but there are no vehicles for now, so you'll have to travel on foot. The mobile game runs pretty well though, but a few bugs are present as it continues to update and be polished. Solo and duo modes are currently available, with a squad mode coming soon. Unfortunately there's no friends list or even a function to communicate with your teammate yet. Last Battleground: Survival has a Facebook page, so check there for any new developments.
A guide for playing Last Battleground: Survival on PC is available for getting started.
Download Last Battleground: Survival from Google Play Store
Free Fire: Battlegrounds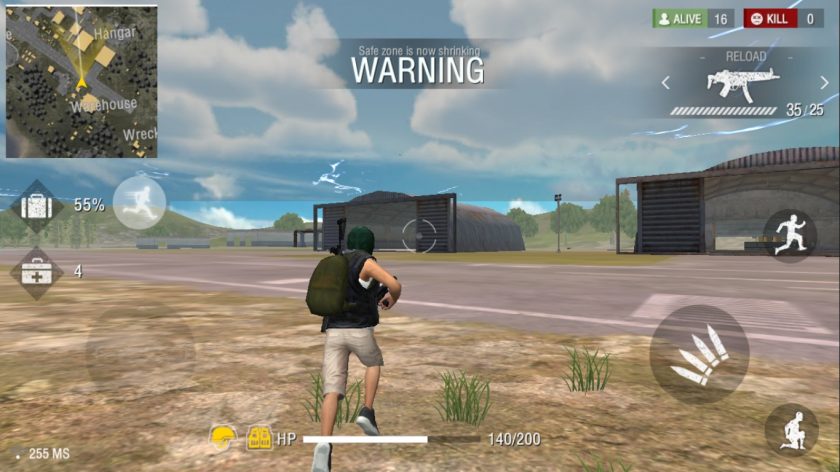 It's like mobile Grand Theft Auto meets PUBG. Free Fire: Battlegrounds is an open beta battle royale where about 30 players drop from a plane and fight for survival with shotguns, SMGs, rifles, snipers, and other guns.There's a massive map to explore and you can use vehicles to travel around. You can play solo, or find a friend to join you.
You can buy loot crates to find cosmetic clothing. There's a daily reward system, and a global leaderboard expected soon.
The Free Fire: Battlegrounds website contains additional information on new updates and various items, including an interactive world map of the game. There's also a Facebook page.
Download Free Fire: Battlegrounds from Google Play Store
Unknown Royal Battle
No list of PUBG Android alternatives could be complete without a Minecraft-styled game. Unknown Royal Battle by Super Games Studio, previously known as Players Unknown Battle Grand, places around 20 players on a compact bright and colorful map. There are snipers, shotguns, pistols, rifles, and even plenty of melees to choose from. There are in-game customization options for changing your character's model, hat, and parachute.
You can create your own public or private matches (for a small fee) with up to 40 players, or you can invite your friends and play a squad match. Despite the repetitious sound effects and the occasional lag spikes, it's surprisingly well made.
Like the others listed here, Super Games Studio has a Facebook page for Unknown Royal Battle.
Download Unknown Royal Battle from Google Play Store
Conclusion
If you're a fan of free battle royale games for Android, find yourself a good Android emulator for PC if you haven't already, then try some of these apps out with a keyboard and mouse. All of the Android apps listed here are being regularly updated, so check back occasionally for any new features.