PlayerUnknown's Battlegrounds has recently arrived on mobile with PUBG: Exhilarating Battlefield and PUBG: Army Attack published by Tencent Mobile Games. The PUBGM game most are playing is Exhilarating Battlefield which plays much like the PC version with some optimizations for mobile devices. Players continue the main objective of the game: 100 players drop from a plane onto an island to gather supplies and fight for survival against all others. The last one to survive wins the match. Both games are free to play and available for Android and iOS. The only drawback of the games is they are only available in the Chinese language.
Playing fast-paced games such as PUBGM can be a bit tedious on a mobile touchscreen, or maybe you don't have access to one. Fortunately, this game is playable on Bluestacks with the new +N beta version which supports Android 7.1.1 Nougat (Bluestacks 3 is not compatible). You can play on PC without the need for a mobile device. Read below for the full step-by-step guide on how to enjoy PUBG Mobile on PC on your computer. This will also show you how to download PUBG Mobile without installing the TapTap app.
How to download and play PUBG Mobile: Exhilarating Battlefield on PC with Bluestacks
Step 1:
Download PUBG Mobile on Bluestacks
Download and install the latest Bluestacks version. But first, make sure your computer meets the system requirements for running the emulator.
OS: Windows.
Processor: Intel Core i5 or higher processor with Virtualization Technology (VT) enabled in BIOS.
Memory: 4GB or higher.
HDD: 4GB Disk Space.
Graphics: Intel HD 5200 or higher, or a dedicated graphics card such as Nvidia or Radeon.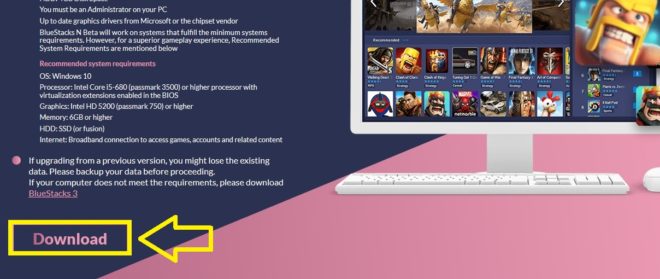 After you install it, go to Settings > Engine and check to be sure it's using OpenGL. If you have the PC resources, allocate to Bluestacks at least 2 CPU cores and 3GB RAM. You can also leave it at the Recommended Memory level.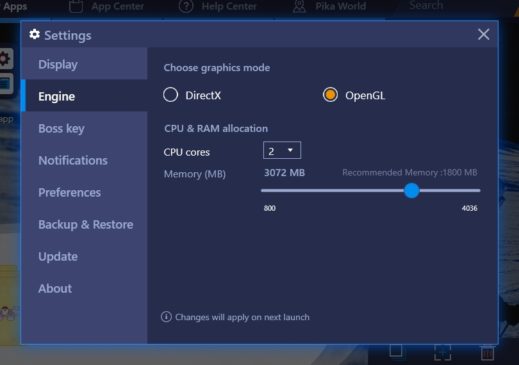 Step 2:
Visit the official PUBG: Exhilarating Battlefield website and download the PUBG Mobile APK file.
You can download the APK directly here so you don't need to use the TapTap app.
Step 3:
Use the Bluestacks APK installer to install the APK game.
Step 4:
Launch the game. When you start it for the first time, PUBG Mobile will show a popup message. Close the message and the game will exit. This is normal and not a crash.
Step 5:
Before you launch the game again, you're going to need to sign in with Tencent QQ. This is an instant messenger which the game uses to sign in with. Wechat is also supported, but it sometimes has compatibility issues with Bluestacks.
Sign up with QQ to create your free account.
You'll need to enter a nickname, password, and a valid phone number with SMS service. The phone number is just for verifying your account with an automated text message they send you. After you completed the steps, click "Sign up now". You'll see your QQ number. Make sure to copy this number or write it down as you'll need this to sign into your account.
Step 6:
Next, you need to download the QQ Google Play Store app in Bluestacks.
You don't need to directly open the app. This is just for signing in with QQ.
Step 7:
Launch the PUBG Mobile app again. You'll see the title screen. Click the "QQ" blue button.
This will open the QQ app you just installed.
In the top box, enter the QQ number you saved earlier.
In the bottom box, enter your password:
After that, click the blue button to continue.
If you did all the steps correctly, then you should now be logged in and ready to create your character.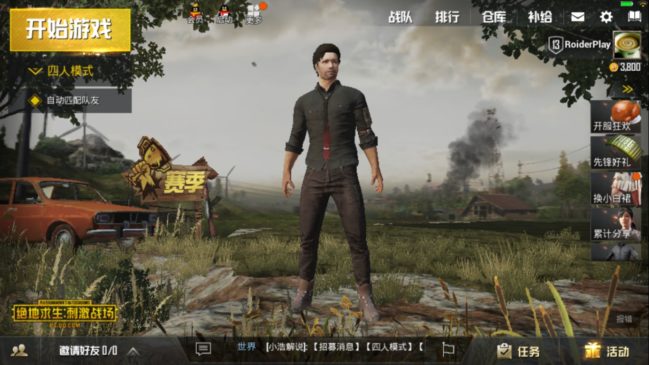 Configuring PUBG Mobile on PC for gameplay
Before you start playing, you need to adjust a few settings for gameplay. On the main screen, click on the gear icon in the top-right corner.
For movement controls, select the third option. This makes controls a little easier on for playing PUBGM on PC.
For driving, choose the second option so you can drive with WASD (movement keys).
Keyboard mapping PUBG Mobile on PC controls for Bluestacks
Left-click: Fire weapon
Right-click: Toggle Shooter Mode
WASD: Move
Shift: Auto-run
Space: Jump
C: Crouch
Z: Prone
F: Open/close doors
1: Primary weapon
2: Secondary weapon
B/N: switch auto/semi
E: Scope
R: Reload
G: Use grenade
0: Use heals
M: Map
P: Dive out of plane
Tab: Inventory
You can set the keyboard mapping controls to anything you want. The list above is an example. You can set additional controls for entering/exiting vehicles or diving in water for your preference.
Known issues and fixes with PUBG Mobile on Bluestacks
If you get stuck at the Tencent Games logo screen, try waiting for 2-3 minutes. If it doesn't load, close the app and start it again.
Download PUBG Mobile on Bluestacks
---
Now find some friends to play with and have fun. If you have any comments, feel free to leave them below.